Landscape Lighting: FAQ's
What is the difference between low-voltage lighting and the lighting I am now using in my home?
Traditional or the most commonly used light sources are powered by 120 volt current. This is known as line voltage and is the standard current. When you plug something into an outlet you are accessing this 120 volt current. Low-voltage lighting operates on a 12 volt current. This is similar to the amount of electricity used by a car battery. 12 volt is much safer and more energy efficient.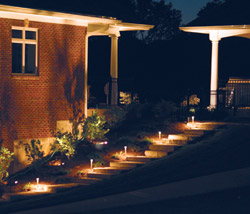 What are the advantages of choosing low-voltage or 12 volt lighting over traditional line voltage alternatives?
The following are a few examples of the benefits of low-voltage lighting:
Low voltage, 12-volt, landscape lighting is safer to operate than traditional 120-volt light.
12-volt operating expenses are approximately 1/3 less than 120-volt lamps.
Per fixture installation costs are up to 90% less than 120 volt.
2-volt lamps give beam control rather than omni-direction flare of 120-volt lamps.
For wattages of 75 or less, there are over 100 (one hundred) 12-volt lamps available, compared to 12 (twelve) 120-volt lamps.
12-volt lamps are capable of compact design therefore yield more compact fixtures.
12-volt lamps produce a better quality of light than 120-volt.
Are all 12 volt fixtures and equipment the same with regard to function and quality?
No, like anything else there are different grades of 12 volt lighting available. The most readily available are consumer quality "kit" fixtures found at local home stores. Though these fixtures have their place in certain landscapes, they are limited with regard to durability and flexibility when compared to professional quality equipment. Landscapes of Florida uses Seagull Lighting as our primary source which comes with a 10-year manufacturer's warranty.
Why should I use professional quality equipment over the cheaper home store versions?
Professional quality fixtures and equipment offer better construction, construction materials like copper and stainless steel, and are often accompanied by extensive manufacturer's warranties. Also, there is a wider variety of professional quality equipment on the market. This allows a designer to choose specific fixtures with the specific functions that will best serve the particular landscape in question. Professional quality fixtures in short present you with more lighting options for any home and/or property.
Can I install a system on my own?
Using a professional designer and installer is highly recommended when using professional quality equipment. This is the case because these designers and installers have an understanding of different techniques, lighting fixtures, lamps or bulbs, that the average homeowner does not possess. This knowledge not only further insures an aesthetically pleasing lighting system, but a safe and functional system as well.
What are some examples of knowledge the professional has that may not be apparent to the do it yourself installer?
There are concerns regarding voltage drop and maintaining the same voltage and resulting light intensity at all fixture locations. There are also specific lighting techniques like grazing or backlighting that may prove to be perfect for a particular application, that the do it yourselfer may not be aware of. Designing cable runs, specifying specific lamps, color temperatures and beam spreads, and using and installing specific control options are also examples
What kind of control options are available to me?
There are remote options, dusk to dawn operation using light sensing photocells, timers, and more available through the use of professional equipment and a professional installer.
Besides fixtures what kind of equipment is necessary?
The heart of any low voltage lighting system is the transformer. The transformer is a necessary component that reduces the 120 volt current from your home into the 12 volt current necessary to operate the lighting system.
What are the costs of a professional lighting system?
Costs depend on the number of fixtures specified, the size of the property in question, the purpose of the system and so on. You can be sure that the cost of a professional system will exceed the cost of a home store kit. However, this initial expense is offset by the extended life and added enjoyment available from a professional system that creates more appealing and diverse lighting effects. When compared to line voltage alternatives, low voltage is far more economical with regard to operating expense and per fixture costs.
What are the main benefits of a lighting system?
The most apparent benefit is the added beauty a low voltage lighting system brings to the landscape. However, equally important are the simultaneous benefits of added home safety, security and value. Plus, by adding light you extend the usable hours of your property and in turn have further opportunities to use and enjoy the outdoor areas of your home.
Will installing a lighting system tear up my yard?
A credible designer and installer can incorporate a lighting system into your existing landscape with little or no disruption to the surrounding area. However, when possible it is best to install the lighting system during the building stages of a home or landscape
How can I get a professional quality lighting system for my home?
You can have Landscapes of Florida provide you a no obligation quote and design.