Eurobrick - Authentic Brick & Mortar Style Curb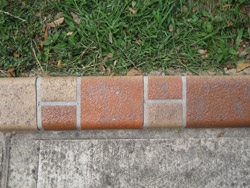 Kwik Kerb "Eurobrick" is a unique and exclusive process that our competitors can not match or provide, which will ensure that your landscape edging is the best in the neighborhood. Eurobrick has the appearance, texture and feel of real brick and mortar edging with the durability and lasting quality of machine extruded concrete. "Eurobrick" is the perfect choice to frame your garden beds and edge your pathways. You choose your preferred colors and brick or block patterns from a variety of natural colors to suit your existing landscape features in order to create a fully individualized landscaping masterpiece. Eurobrick can even be customized to match existing colors to compliment clay bricks and pavers. Choose your preferred colors and pattern to create a custom landscape masterpiece today.
"Eurobrick" is the hottest product in landscape curbing today. You can enjoy the benefits of a truly unique concrete edging installation.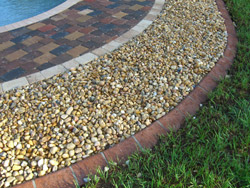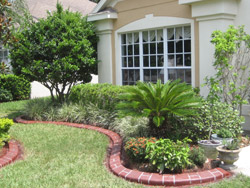 Benefits:
Textured, multi-colored concrete edging simulating the appearance of real brick and cement mortar joints
Many natural colors available to suit your existing landscape features
Unique, hand-finished curb provides individuality to your landscaping
Strength and durability of extruded concrete
Compliment you existing clay brick or pavers
Make your garden into a showpiece with visual appeal and lasting quality
Add prestige and value to your property
"Eurobrick" – superior edging product exclusive to Kwik Kerb.
The patented EuroBrick process yields stronger pigment, longer–lasting colored curbing. This means that certain colors which have previously been difficult, or in some cases impossible to stop fading, can now be successfully installed using the EuroBrick method.
Eurobrick provides a lot of flexibility in the curb installation process. Therefore timing regarding the application of color and texture is now much less demanding than in the past, giving customers more curbing for their money.
EuroBrick offers a variety of different brick looks through our complex process. The most popular EuroBrick styles are standard, running bond, and multi-color. Every EuroBrick process allows for multiple color application, allowing to match multicolored brick pavers. EuroBrick curbing can be matted or sprinkled to create the desired look of your choice.
EuroBrick is only available in Sloping Border or Mower's Edge Profiles