Pergolas and Gazebos
A pergola or gazebo can be used to section off a part of your yard for entertaining while providing some shade. Our pergola kits offer easy assembly with pre-cut and pre-drilled posts. For an even more ornate structure, we have a variety of gazebos to choose from. The gazebo is a classic outdoor piece that has been used for generations as a wedding setting, social gathering structure, and even just a shaded place to relax. A gazebo kit can help you add a touch of history and elegance to your lawn or garden. Some of our gazebo kits are available in more than one size.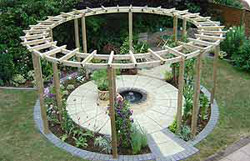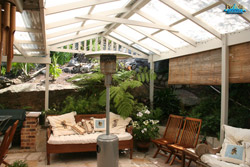 Whether used for a practical purpose, decorative purpose, or both, a garden bridge is an attractive fixture to place over a small creek or pond in your yard. Our garden bridges are available in many different lengths and styles. Easy to assemble, they offer the perfect accent to the path in your garden.
Whether you are looking for arbors and trellises, gazebos and pergolas, or garden bridges, we have a great selection to help decorate your lawn or garden, and are happy to help you with any questions that you may have.
Let Landscapes of Florida help you turn your visions into reality. We have hundreds of design ideas for you to review.